Is your animal hospital busier than ever? 3 solutions for coping with increased client demand
Posted on: June 8, 2021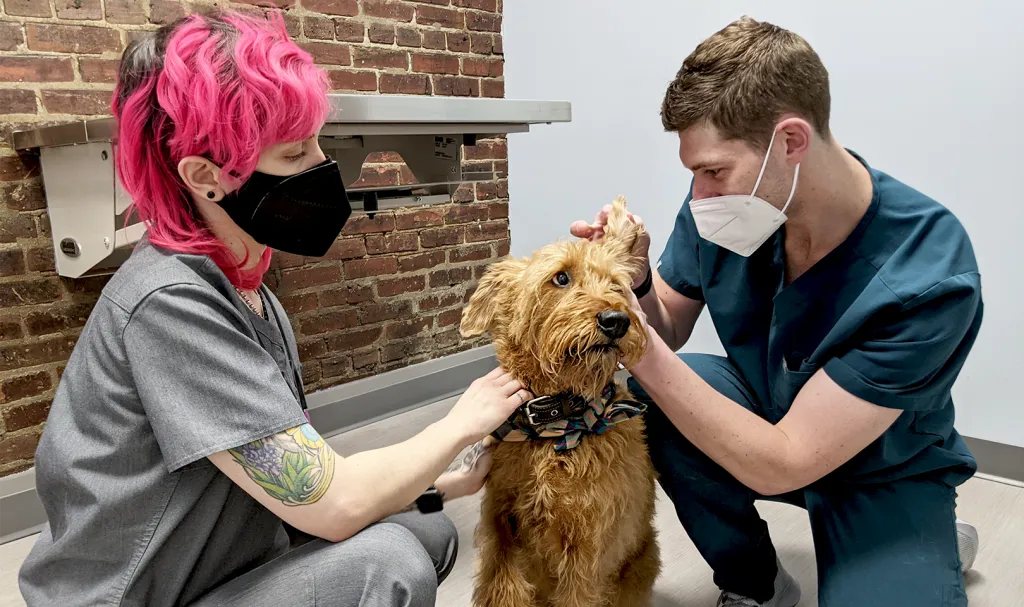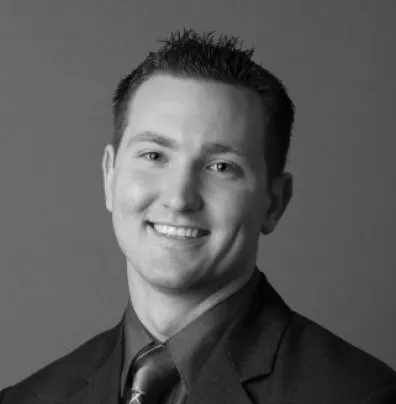 Updated October 2021
The animal health industry and veterinary hospitals have faired very well despite the uncertainty of the pandemic.  In a recent survey from IndeVets, more than 100 animal hospitals responded and 90% reported an increase in appointments between March 2020 and March 2021. (See full survey results here).
We wanted to know: where are all the new clients coming from – and how can hospitals adapt to cope with increased demand?
Where is increased veterinary demand coming from? Two key factors
To start, we looked at the main drivers attributed to this increase.
Demand from new pet parents
The #1 reason hospitals reported was strong demand from new pet parents. Previously, this demand was attributed to a surge in pet adoptions resulting from Covid.
However, recent studies have shown that this "surge" was much smaller than initially thought — and in fact, may not have been a surge at all.
Still, most hospitals reported a supply-demand imbalance. Whether this was due to adoptions, Covid exacerbating the ongoing vet shortage (especially as more vet parents stayed home to care for children) or the aptly named "staring at your pet syndrome" leading to more visits — new clients certainly played a role.
Client acquisition from other animal hospitals
What really surprised us though was the second highest driver of increased client demand – as revealed by our survey: new clients coming from other hospitals was listed as the second greatest source of new revenue.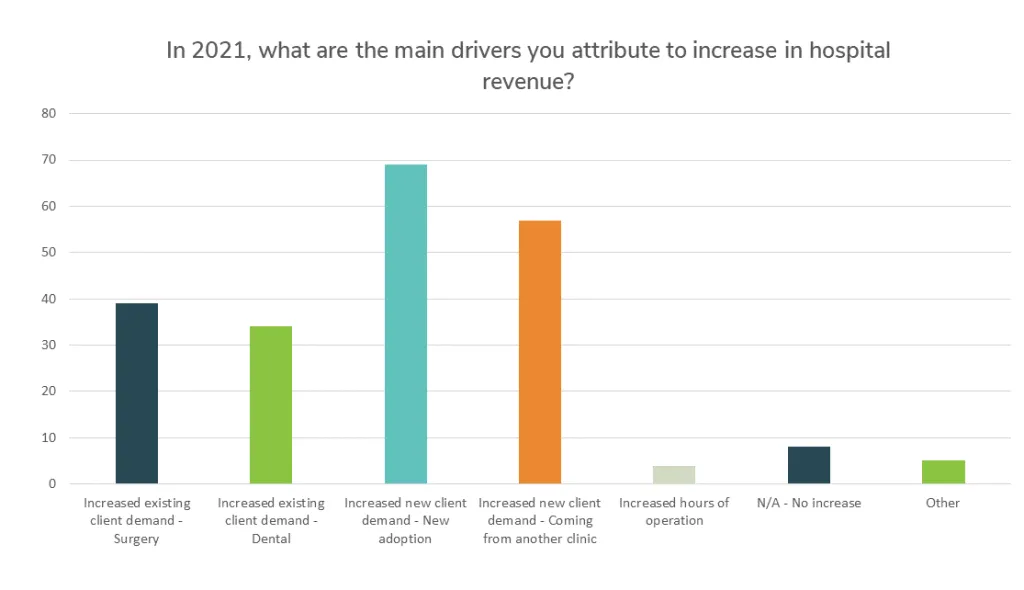 Covid introduced a host of challenges for all animal hospitals that made many practices less efficient than before. The hospitals that could adapt to these challenges were able to see more patients, including patients from other hospitals that were unable to adapt.
Such challenges include:
The Covid conundrum: During Covid, many practices switched to curbside medicine. Curbside appointments generally required more time per patient than traditional visits, meaning less appointment slots and longer wait times. Curbside's reliance on phone calls to share information also led to tied-up phone lines and frustrated clients on hold.
As hospitals moved away from curbside, they faced new challenges, such as developing and enforcing policies regarding masks, cleaning, and the number of clients allowed in exam rooms.
The appointment backlog: Survey results indicate that many hospitals had to pause non-essential surgeries in March, April, and May of 2020 causing a backlog of common procedures. This triggered less availability for both surgery and general appointments.
Animal hospitals that were able to adapt and make operational changes to increase capacity faired well as a result, whereas animal hospitals who did not find growing appointment wait times drove some clients away… often to competing practices.
3 solutions to coping with increased demand for veterinary services
Here are 3 solutions to increase your capacity and keep clients happy.
Solution 1: Hire more support staff – and give them a clear role.
This includes assistants, receptionists and runners. As more adults become COVID-19 vaccinated and hospitals have re-opened, developing clear roles is key to managing demand.
Hiring additional support staff allows you to create efficiencies, allowing more clients to be seen with better customer support and more touchpoints. Give staff members dedicated roles so they're not running around needlessly.
Solution 2: Consider relief doctors or flexible veterinary staffing (like IndeVets!)
Relief vets can help hospitals expand appointment hours, or give current staff a much-needed break.
Of course, not all relief doctors are created equal. Finding a doctor who is also a patient, cooperative and kind clinician who gets along great with patients and staff can make a real difference for your practice.
At IndeVets, all our doctors go through an extensive vetting process, including clinical and personality assessments, to ensure we only hire the best & brightest. We also follow strict Covid-19 safety protocols (see: Is it safe to hire a relief doc during Covid?) Plus did we mention requesting a shift takes approximately 2 minutes with our online scheduling system?
 Solution 3: Have a plan, and stick to it.
A very wise practice manager undoubtedly once said: Failing to plan is planning to fail.
Hospitals and staff are busier than ever and sometimes it is hard to take a step back and look at what the business needs will be over the next few months. But, this is key in planning for success.
Even using relief doctors requires planning. For example, Associate IndeVets generally book their schedules 6-10 weeks in advance, with some doctors scheduling shifts 12 weeks or more in advance.  Advance planning can be key to finding the support you need.
Create a living document (or a good old calendar) to plan vacations for doctors and support staff and make sure you have adequate coverage to continue hospitals operations without any interruptions.
Here's a quick planning checklist we use.
Have you accounted for…
☐ Scheduled vacations
☐ Expansion of hospitals hours?
☐ Medical Leave & maternity coverage
☐ Any open positions?
☐ Additional positions you need to open?
In closing
The animal health industry has seen a 5-15% increase in client demand on average and there are no signs this growth will slow down anytime soon.  Being prepared to cope with added demand will be key going forward.
Any additional solutions you'd add to this list? Drop us a note and let us know.
Matt Shivers is the Vice President of Hospital Success at IndeVets.
More from IndeVets:
Results of the 2021 Veterinary Impact survey… and what they mean for animal hospitals
How well do you know vet med? Test your knowledge with our new quiz
Building a thriving veterinary team through fiscal security