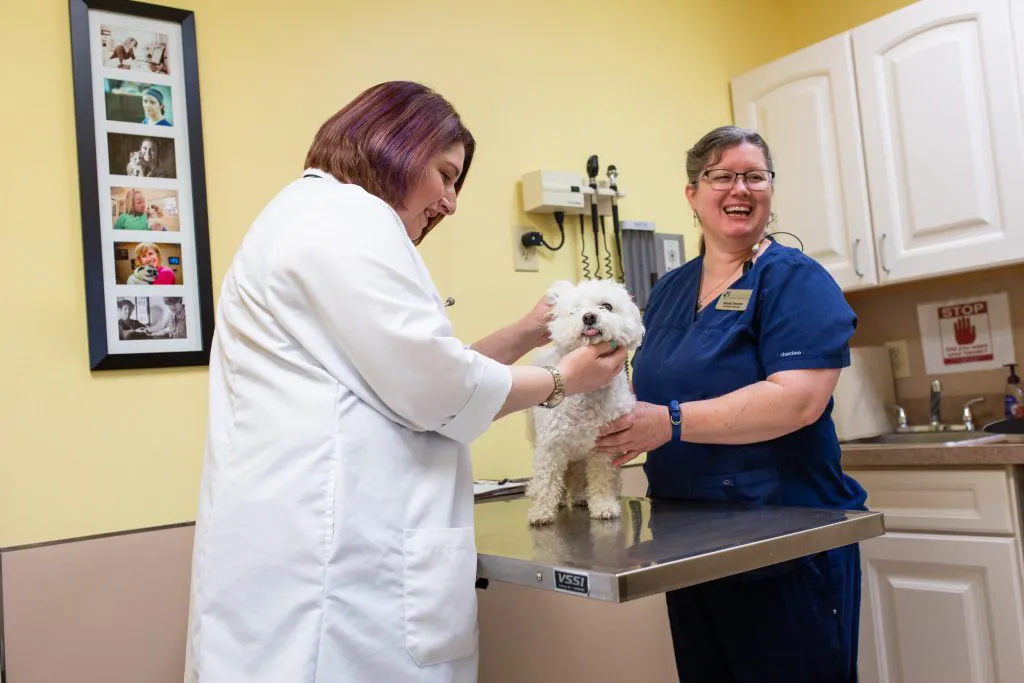 Plus: what you can do to prepare
Animal hospitals are poised for a big rebound this summer, with growing invoices and revenues – despite negative economic growth in the larger US economy. Our research points to increasing visits across the country today – which we expect to increase further as states open economies and reduce business restrictions. The main drivers to revenue returning, according to our data, are recapturing delayed well visits, vaccinations, oral health procedures and surgeries.
Here are the top 5 reasons animal hospitals are positioned for one of the busiest summers in years. At the end of the post, we'll also share best practices on how to prepare for the crush as well.
1. Backlogged well appointments
In early March, governors in most US states issued orders limiting non-essential veterinary services, including well visits. Well visits are the bread and butter of general practice animal hospitals and for the past two months, these critical exams came to a full stop in many states across the country. Well visits serve as an annual or bi-annual bonding moment for veterinarians and clients. Well visits can also generate significant revenue as they include vaccine, preventatives, lab work and other add-on products and services.
These restrictions led to dramatic reductions in appointments at animal hospitals. According to our surveys, restricted well visits are the top reason animal hospitals say appointments have been reduced.
According to a recent William Blair survey, three out of four pet owners report they plan to reschedule canceled or postponed visits.
Source: William Blain Equity Research
2. Increases in Adoptions & Puppies
In addition to recapturing missed appointments, animal hospitals now have a larger base of clients to draw from as adoptions and puppy parents increased dramatically during quarantine. Shelters across the country are reporting empty cages. New puppy and kitten sales are up as quarantined owners thirst for companionship and add to their pet families – or start new ones.
According to Kitty Block, president and CEO of the Humane Society of the United States, the rates of fostering have increased by as much as 90 percent in some cities. Block reports that one Pennsylvania shelter saw its foster application numbers rise from three-to-five per week to 40 per day.
New puppies and kittens need vaccines and other medical care. And adoptees can often come with pre-existing conditions that need more immediate care.
3. Postponed non-essential procedures.
In addition to well visits, many animal hospitals also stopped performing non-essential surgeries and oral health procedures. This was part of a drive to save surgical masks, gowns, and other PPE for use by human healthcare workers. As supplies of PPE have become less restrained, hospitals can once again begin scheduling large backlogs of spays, neuters, dental extractions, orthopedic procedures and more.
According to our survey of more than 300 animal hospitals primarily on the East Coast, hospital owners rank non-essential procedures (surgical and dental) as a primary reason appointments are down. At the same time, the survey shows a steady increase in client demand since early March. These complimentary procedures can produce incremental revenue and profits for animal hospitals. Many are likely to be recaptured since they were able to be delayed and many will need to be completed.
4. Hospitals remain confident about business rebound
At the same time, a very high level of animal hospital owners and practice managers remain confident that business will return to normal – in some cases as early as June. Our survey shows 63 percent of respondents are 'very' or 'extremely' confident business will return to normal or improve. Regional managers for animal hospital groups are reporting that hospitals are adding back hours and looking to rehire staff to cover the expected increases.
5. National revenue data already showing a full rebound from an April trough
We are now beginning to see states governors and VMAs loosen restrictions on non-essential services. We believe this will release a large backlog of demand for exams. Some national reports are already showing year-over-year revenue growth for the first time since the coronavirus hit in March. This data is from 2,500 veterinary clinics in the United States: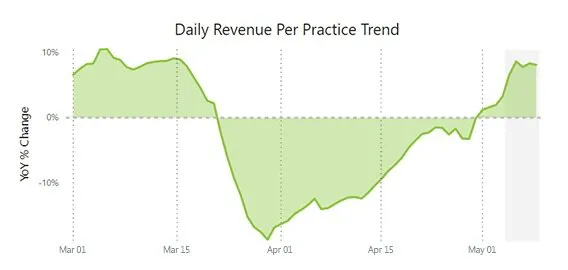 At the same time, IDEXX Laboratories (NASDAQ: IDXX) the leading provider of diagnostic tests and practice management software in the US, reported recently positive trends for weekly patient visit growth. The data shows a steady increase in patient visits since a low-point in early April.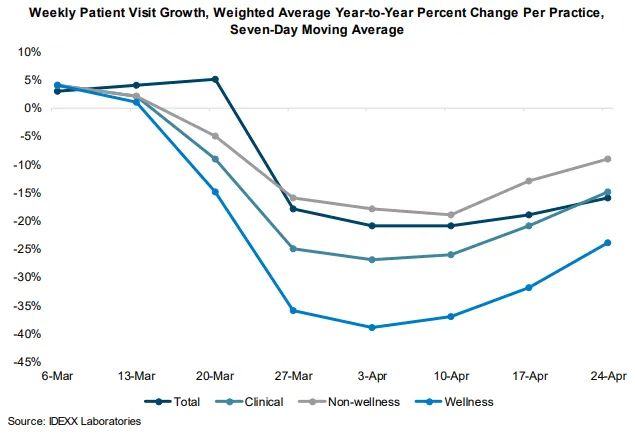 Timing is everything, and animal hospitals need to be prepared to capture the expected influx of appointments and client demand.
Our estimates suggest that for a small-animal hospital with two full-time veterinarians, summer revenues could run 30 percent higher than previous summers as several months of backlogged well visits and non-essential procedures will be rescheduled over the next few months. Animal hospitals will need to make sure they have sufficient staff and veterinarians available to handle increased demand.
What can animal hospitals do to prepare?
Here are a few tips on how best to prepare for this increase from the veterinarians and industry professionals at IndeVets.
Keep your staff healthy and safe at this time. (Both mentally and physically)

Consider a full staff meeting prior to your "re-opening" date to set the stage for the future and ensure your staff knows you are always available to assist in this transition

A short huddle at the beginning of each shift can also help plan the shift and allow staff members to express any questions or concerns

Anticipate your "re-opening" date and set your schedule

Plan for change in vacation dates and timing

Consider extending business hours or increase working days to accommodate increased demand

Forward booking – start now if you haven't already

Gather your client list, who missed their annual visits in March or April or May

Prioritize these visits based on need

Don't neglect new clients (consider adding adoption and foster care plans for clients)

Last but not least, do not forget to market your hospitals "re-open" date
Michael Raphael is CEO of IndeVets. Reach him at michael@indevets.com.
More from IndeVets:
4 key trends for animal hospitals for 2021
Building a thriving veterinary team through fiscal security
What does the uptick in vet school applications mean for animal hospitals?