Clinical excellence isn't our goal.  It's our bare minimum.
At IndeVets, we go for exceptional with every vet – the kind of docs you'll want back again and again.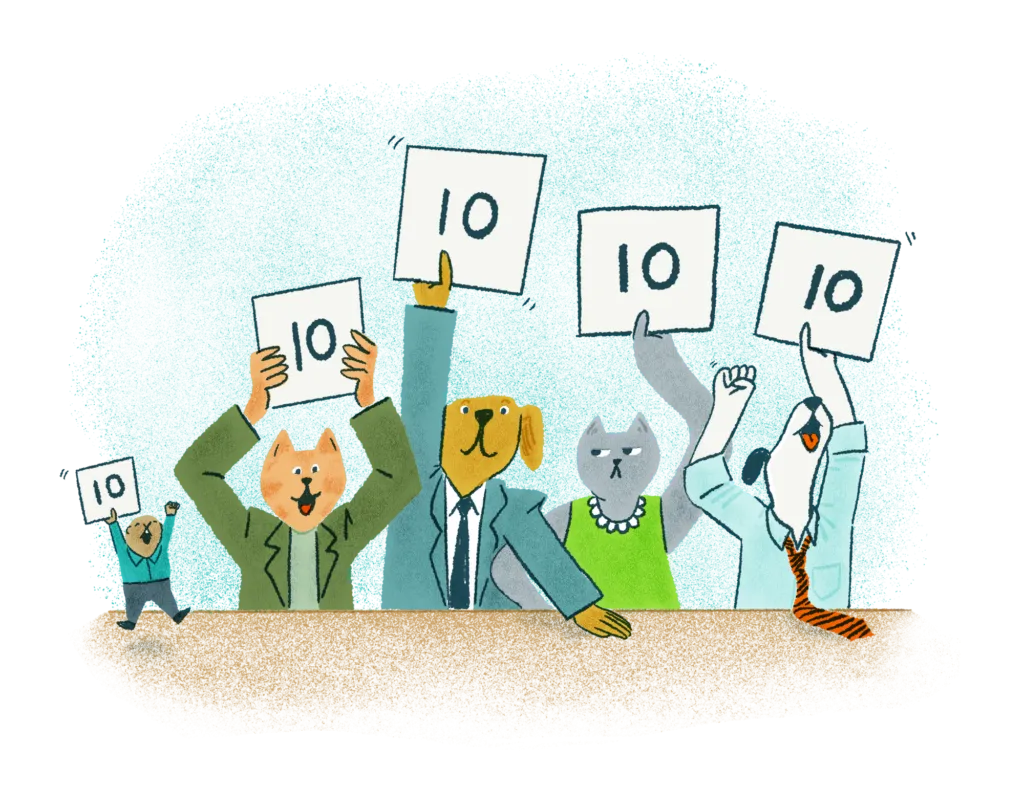 Our docs always get high scores.
With an average of 4.95 out of 5 stars over thousands of shifts, our vets get the best reviews in the biz. That's a lot of happy tails.
Becoming a vet is hard. Becoming an IndeVet is even harder.
We don't hire just anyone. Each IndeVet is hand-picked by our team of practicing doctors and has the depth of experience to walk into your clinic and deliver excellent medicine without disrupting your culture or flow.
We put all candidates through their paces in our five-step interview process, including:
Participating in a 1.5 hr. interview with a doctor from our Clinical Leadership Team
Completing and presenting a comprehensive clinical case study to a team of our doctors
Providing 3 professional references
Completing a personality assessment using the Predictive Index
Passing background checks, social media checks, drug checks – all the checks
Meet the vets behind our vets.
Every IndeVet receives leadership, guidance, and support along the way.
It takes a team.
All of our vets are managed by a team of Area Medical Directors (AMDs) who are practicing vets themselves. They oversee each of our vets, and work with hospitals to ensure that everyone's expectations are met.
Get a second, or third, opinion.
Our AMDs regularly review medical records and shadow docs while they practice to make sure they consistently deliver top-notch care.
Stronger together.
All of our vets stay connected through our knowledge-sharing platform. This gives them access to the latest research and trends as well as real-time POVs from fellow IndeVets in the field. Working with one IndeVet is like working with all the IndeVets.
No risk.
All reward.
The Love Your IndeVet Guarantee™
We employ the highest quality doctors of any relief provider out there. We provide the kind of doctors you can trust to step into your clinic and practice excellent medicine that keeps your clients happy and your clinic humming, so you don't have to worry about a thing (except the 1,000 other things on your to-do list).
If for any reason you don't love your IndeVet, just let us know, and we'll always make it right.
"IndeVets do an outstanding job with records, complete exams, professional with staff and clients, and the portal is easy to request days you need filled!"

Brenda Girard

Moore Veterinary Hospital (Detroit, MI)
"Excellent service, extremely qualified veterinarians, friendly, works well with staff and clients. Dependable and thorough in their record posting. Best choice for fill in support."

Jim Harper

Hamilton Veterinary Hospital (Central NJ)
"Surprised how seamlessly IndeVets fit in. Clients have been really pleased with the IndeVet doctors. They work great with the techs and are willing to help and work as a team."

Christina Shiraldi

Nazareth Veterinary Center (Nazareth, PA)
"So MUCH EASIER than a relief vet phone tag."

Caroline Cofer

Pet's Favorite Vet (Greenville, SC)
"IndeVets are very professional, capable and able to handle all our clients' and patients' needs from the moment they walk in the door. They are flexible and willing to immediately be a part of our hospital team."

Dr. Stewart Eidel

Mountainside Veterinary Hospital (Reisterstown, MD)
"All of the doctors from IndeVets have been wonderful. This service has been a great resource for our clinic. We enjoy each and every clinician that has come to our practice. They are a pleasure to work with, thorough and provide great medicine."

Andrea Paradise

VCA Annandale Animal Hospital (NoVa, VA)
A trusted partner with unlimited potential.
Ready to learn more about becoming an IndeVet hospital partner?