Clinical standards higher than a Jack Russell can jump.
We may joke around, but one thing we're always serious about is practicing the best medicine possible. That's why we expect a lot from our doctors and our hospital partners.
Our clinical leadership team, led by Chief Veterinary Officer, Dr. Marisa Brunetti, and our team of Area Medical Directors, make sure we're all on the same page. They're the friendly faces that ensure we never waver on our standards — whether it comes to medical record-keeping, minimum equipment, or surgical and dental procedures.
Marisa Brunetti
Chief Veterinary Officer
Take a deeper look at our standards.
We don't hire just anybody.
(In fact, less than 1 in 6 make the cut).
Here are the basic clinical requirements every IndeVet must have:
High quality, independent post-grad hospital experience including any or all of the following:

Small animal GP or ER experience
Completion of a contemporary and challenging internship program
If less than two years in practice, experience must include an active mentorship

Established confidence with ability to work independently in our hospitals while being actively supported by the IndeVet community
Ability to work a minimum of 25 hours/week
Active veterinary license/DEA license/CDS license (if applicable) or ability to apply for a license in the state you're applying to work in
Strong clinical skills
Excellent client communication
Internship training is a plus
Ready to take the leap to happier, healthier vet work?
Great vets second. Great people first.
From our vets to our leadership team, we're dedicated to being our best selves, passionate about making the industry better, and actually pretty fun to be around. This trifecta is the real deal. And that's all possible because we take our core value of being "highly competent and nice" very seriously. So seriously, that "nice" literally translates to a No Jerks policy in our handbook and every single one of us gets reviewed against this standard.
You'll follow our No Jerks policy swimmingly if…
You always uphold the Golden Rule, whether you're talking to the tech or dealing with a disrespectful client.
You approach others from a place of genuine gratitude and empathy.
And you act as a model of change — making our industry better for ourselves and our colleagues.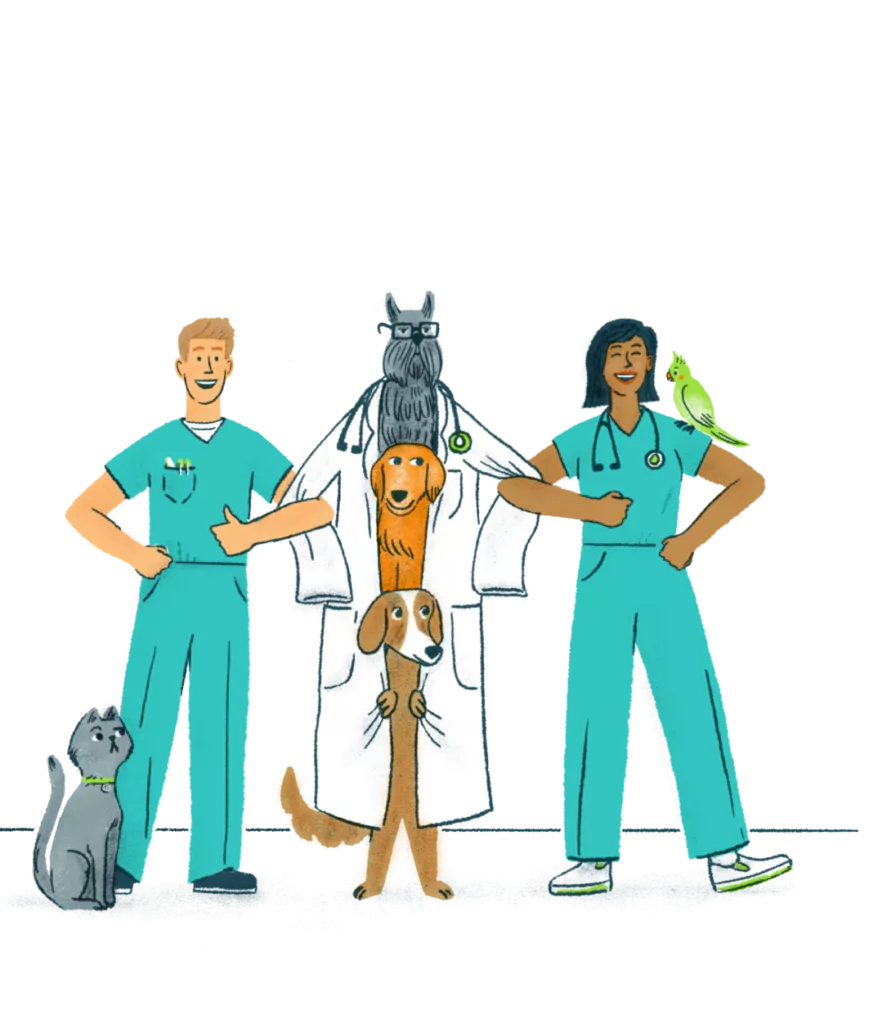 Work with hospitals you'd
bring your own pet to.
All our hospital partners fill out a detailed questionnaire in order to begin working with IndeVets. It's part of our extensive vetting process to ensure every practice is well run and has appropriate support staff for you. This important step is led by our clinical team. So you can bet they know what to look for, and what to look out for.
Our Area Medical Directors also work closely with our hospitals, and they're not afraid to step in if their clinical standards slip. That's never on you. It's our job to call out inadequate protocol so our hospitals can make improvements. That way, everyone knows the ground rules – and the hospital staff is more likely to have a good experience working with you and vice versa.
We stay on top of how it's going. Our doctors rate our partner hospitals on a regular basis and we're happy to report that after nearly 4,000 shifts our hospitals rate 4.7 on average out of a five paw scale.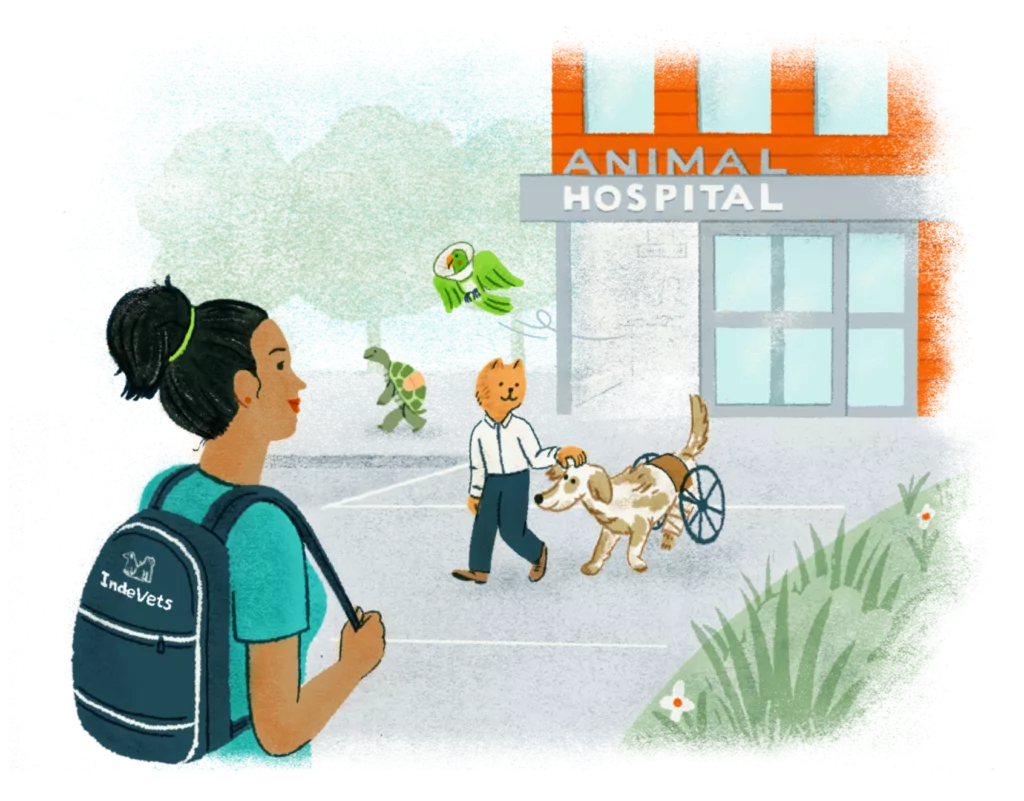 You'll hit the ground running.
Work where you want.
We ensure there are great practices in our network within a reasonable commute (typically less than 45 minutes) from you. We'll even show you where the best parking is!
Actually take a break.
Every hospital is encouraged to provide a reasonable (usually 1 hour) break for you to catch up, eat, and reenergize. And you're paid for every minute of it.
Feel supported at every turn.
We recommend our partners provide you with their best support staff. But in the event you encounter any issues, you'll have a dedicated team of IndeVets behind you to support you. We address it with the clinic, so you can stay focused on the medicine.
Show up confident.
Every hospital has an online profile (check out a sample) that includes information about everything from attire and basic exam fees to diagnostic capabilities and how many appointments are scheduled per hour.
Say goodbye to overbooking.
We guide our hospitals on considerate scheduling, so you don't have to stress about double-booked appointments. We recommend starting at 30-minute appointments to gauge comfort, and go from there.
Get paid for every minute.
Your free time is yours, so we'll never ask you to work more hours than you want. But if your shift does run long, rest assured you are paid for every single minute you're there.
IndeVets in the Press
We love to see our hard-working vets get the recognition they deserve.
Happy vets make the best vets.
We know you're at your best when you practice what you love, and that's what we're all about.
Love your schedule like
dogs love socks.
You choose the when, where and what of every shift you book.