What does the uptick in vet school applications mean for animal hospitals?
Posted on: December 8, 2020
More and more undergrads are applying to vet school. Will more docs relieve staffing issues for hospital managers? Not so fast, writes IndeVets CEO Michael Raphael.
This year, applications to veterinary schools increased 19 percent – representing an additional 2,000 applicants over 2015. For an industry that is experiencing critical shortages of veterinarians, one would think this is good news.
Recent data we've analyzed from the American Veterinary Medical Association shows there were more than 5 job ads for everyone job seeker in 2018. This trend has created serious operational challenges for veterinary hospitals across the country, as they've struggled to staff shifts and provide services to clients. Any improvement in the availability of veterinarians would be more than welcome.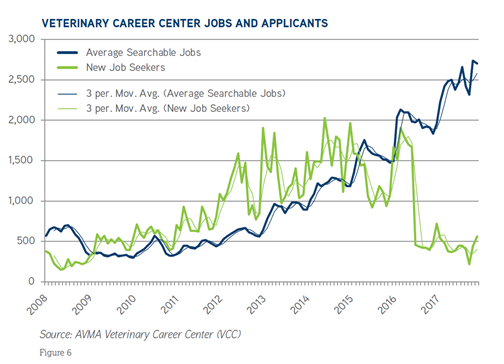 But most experts believe the uptick in applications will not be enough to put a dent in the labor shortage.
"While this year's numbers are exciting, I view them with a bit of concern about the pool over the next 5 years," Dr. Lisa Greenhill, Senior Director for Institutional Research and Diversity at the Association of American Veterinary Colleges, tells Today's Veterinary Practice. "Long-term undergraduate enrollment projections were already expected to drop in 2025 due to low birth rates during the last recession. Overall, while this increase looks positive now, it signals an early contraction of the applicant pool in the out years. I'll be surprised if the increases we are seeing are sustainable over the next several years."
In addition, the National Student Clearinghouse Research Center reported in September of this year that undergraduate enrollment was down 4 percent.
So while the pandemic-led increase in applications to veterinary schools may eventually help slow the job trends, the impact won't be felt for years to come – if at all.
Michael Raphael is CEO of IndeVets.
More from IndeVets:
3 reasons animal hospitals will be busier than ever this fall
Building a thriving veterinary team through fiscal security