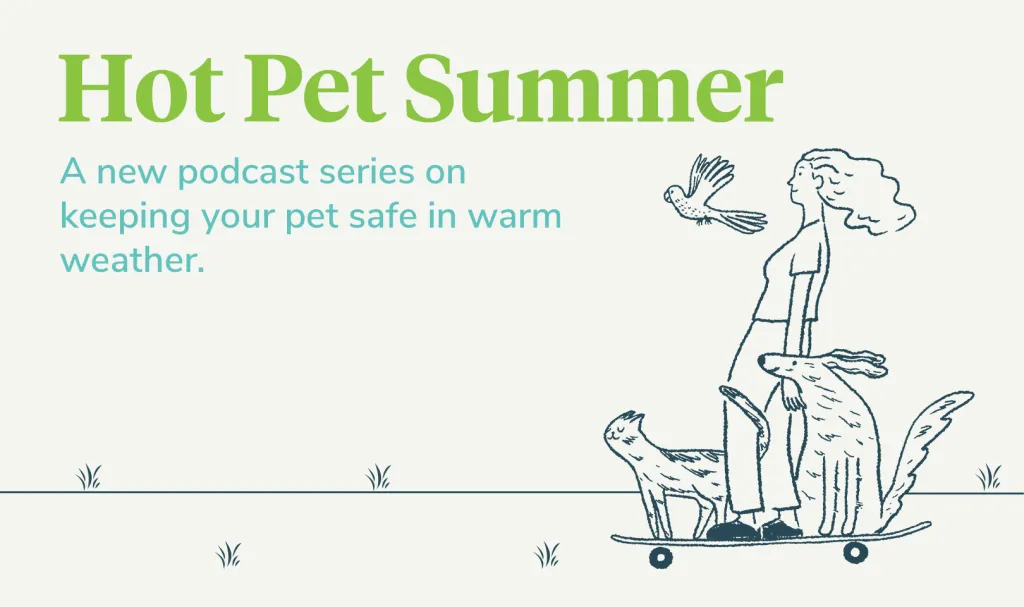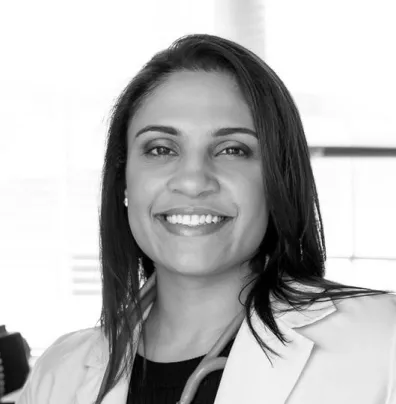 Hot Pet Summer will debut this June on The IndeVets Happy Hour podcast.
If you haven't tuned into the IndeVets Happy Hour podcast that I host with my colleague and friend, Dr. Andrew Heller, please find it wherever you listen to your podcasts! (like Spotify or Apple). You can tune also in right here on our website.
This week, our ninth episode debuted. Starting the first week of June, we will begin releasing episodes in our Hot Pet Summer Series, focusing on common issues we see in our companion animals during the warm months. We live outside Philadelphia, but in each of the 12 states where Associate IndeVets work, it is finally getting warmer!
These episodes will have a dual audience – pet owners and veterinarians! Get a sneak peek at our summer episodes below:
Yes, it's too hot to leave your dog in the car!
Our first episode focuses on heatstroke (heat prostration) in dogs and cats. Heatstroke is characterized by body temperatures greater than 105F from exposure to a hot or humid environment (nonexertional – think dogs in hot cars) or from strenuous physical activity (exertional – think working/exercising dogs). We know that excessive heat can lead to organ failure and death if not treated quickly and appropriately.
We recommend that pet owners become comfortable with the possible signs of heatstroke – high heart rate, increased salivation, collapse, respiratory distress and/or increased respiratory rate, and possibly injected (red) mucous membranes (lift your dog's lip to look at their gum color).
Cooling mechanisms should be initiated at home using cool towels, isopropyl alcohol applied to the paw pads and ear tips, and fans (no ice baths!). Animals should be taken to the veterinary hospital as soon as possible.
Veterinarians will continue external cooling methods but will also initiate intravenous fluids with room temperature fluids and run bloodwork to check for organ dysfunction. This bloodwork with the doctor's assessment will determine the next step in treatment and may involve referral to a 24-hour hospital.
Listen to our podcast, The IndeVets Happy Hour.
Surviving July 4th… Fireworks and corn cobs are not fun for dogs!
For many people, July 4th is a time for parties and fireworks. For many dogs, July 4th is terrifying and may even cause severe disease. We recommend pet owners speak with their veterinarians in June to be prepared for firework shows (and summer thunderstorms). Even small fireworks may cause intense anxiety and stress for dogs.
Luckily, there are many different options for keeping dogs calm and relaxed during times of stress, but they require preparation.
In this podcast episode we will review the anti-anxiety and sedative medications that can be used for thunderstorm and firework anxiety, as well as some behavioral modification techniques and calming supplements that may help as part of the plan.
We will also strongly reiterate that corn cobs often cause gastrointestinal obstruction in dogs which leads to severe disease and usually expensive surgery. Keep an eye on your corn cobs!
Toxic plants – Not just for memorizing in veterinary school
Here's the bad news – there are many common household plants that can cause mild to severe illness in dogs and cats. The good news is that the ASPCA Animal Poison Control (888-426-4435) and the Pet Poison Helpline (855-764-7661) are available 24/7 and are staffed with specialists that can assist pet owners and veterinarians with appropriate treatments.
This episode reviews common household toxic plants like lilies, peace lilies, sago palm, azaleas, rhododendrons, tulips, hydrangeas, devil's ivy, hostas, lantana, and daffodils – what makes them toxic, if you can treat them at home, and when you should consult your veterinarian.
For our veterinary professional listeners, we will review common decontamination and treatment methods for ingestion of toxic plants in our canine and feline patients.
Want more clinical & industry news from IndeVets? Sign up here.
Keeping itchy dogs and cats comfortable
Seasonal allergies are here! Most of us humans are feeling it in our respiratory systems, but pet owners may be surprised at some of the ways allergies manifest themselves in our companion animals. Pruritus (itchiness) isn't just scratching – dogs also lick excessively, shake their heads often, rub their face on the ground, roll around more on their backs, and scoot their butts on the floor to relieve itchiness.
Cats are quiet about their pruritus. Pet owners may only see hair loss on their cat's belly from overgrooming, excessive rubbing of their face on people and other objects, as well as debris and redness in their ears from secondary ear infections.
For veterinarians – we are lucky to have a multitude of topical and systemic products that can keep our dog and cat patients comfortable during the allergy months. We will review the work-up for dermatologic diseases in dogs and cats, when you should use systemic antibiotics, and how topicals and supplements may be a great addition to the treatment plan.
Fleas, ticks, and mites – Oh my!
These small, gross parasites can affect our pets all year, but they are more prevalent in the warmer months. It is important to understand the lifecycle of these parasites so we can properly treat and prevent any infestation or disease.
This podcast reviews the lifecycle of the common fleas, ticks, and mites we see up and down the East coast and discusses the diseases they transmit. Many of the diseases that affect our companion animals may also affect humans.
Veterinarians know there are many products on the market for preventing and treating these parasites. We will review the commonly used products and how they work in our pet patients. Most importantly, we will discuss key talking points for veterinarians to use when educating their clients. Treating fleas in the house is more extensive than just treating the pets – we must also treat the environment!
Canine outside adventures – First aid on the go
Many of us take our dogs with us on outdoor adventures during the warmer months. As veterinarians, we recommend more preparation than just jumping in the car with your dog to go hiking, camping, or to the beach. Knowing a small amount of pet first aid and carrying some supplies that will help you before you can get to a veterinarian is invaluable.
For our veterinary listeners, discussing first aid with pet owners is important. We recommend veterinary practices focus their marketing and social media on providing first aid information and consider information and supplies for them to take home after their pet's exam.
Lastly, we will discuss common injuries vets may be treating like dog bites, other lacerations, and lameness from musculoskeletal injuries.
In closing
We look forward to "chatting" with all of you this summer! We are excited to get back out there but we want to be as prepared as possible to decrease the possibility of illnesses and injuries in our companion animals. For more information on the IndeVets Happy Hour Podcast, please click here.
Have a great summer and stay safe!
Marisa
Marisa Brunetti, VMD is Chief Medical Officer for IndeVets. 
More from IndeVets
Introducing The IndeVets Happy Hour, a new podcast
Weird Case Files with Dr. Amy: Meira
Thinking sustainably in vet med: 3 tactics and 3 unexpected advantages