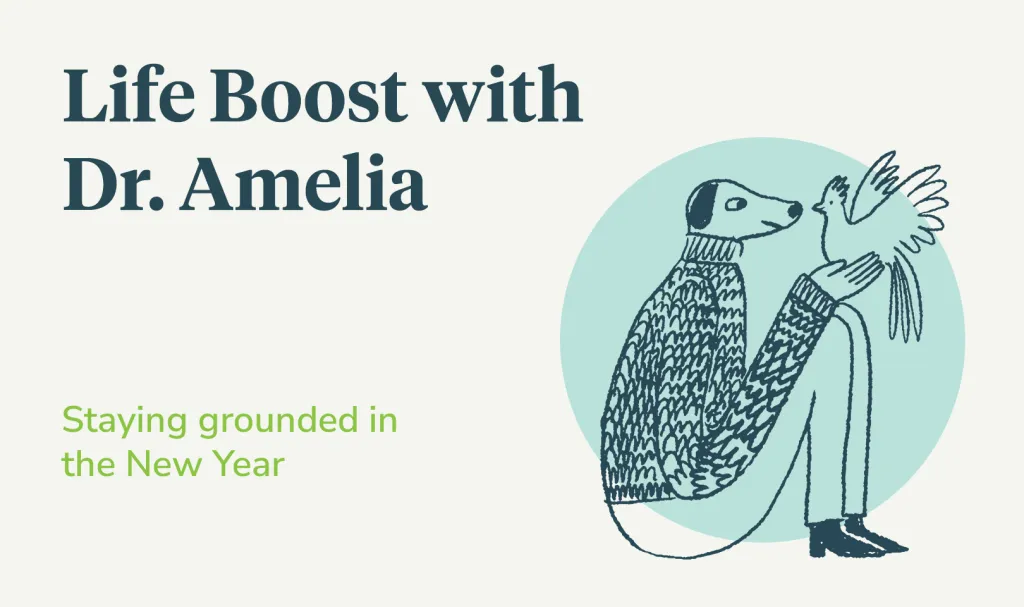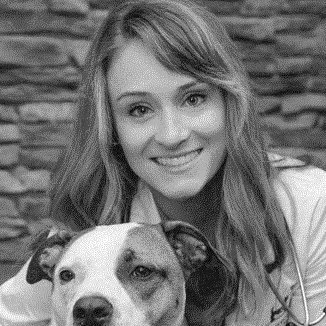 In Life Boost with Dr. Amelia, Associate IndeVet and health coach Dr. Amelia Knight shares tips to lead a happier and healthier life as a veterinarian.
It's the New Year, and with that comes an influx of messaging reminding you that this is the time to create new goals, be better, and "get back on track." Regardless of whether you love or despise the feeling of new resolutions and a fresh focus, I have a proposal I hope you'll consider. This year, identify and prioritize the things that ground you.
Life is unpredictable, wonderful, messy, overwhelming, and perfectly imperfect. When life starts to feel like a lot, what are the things that help you stand back up on two feet and do a reset? Regardless of what other goals you have in mind this year, consistently returning to the things that help you find balance will give you a solid foundation for success.
Identifying the things that ground you
Get out a pen and paper and create a list by answering each of these questions. If you're not sure of the answers right now, that's okay! Keep a running list on your phone so that you can start making note of the things that help you to feel centered and grounded.
What actions help you work through and process the thoughts in your mind?
On hard and stressful days when life feels like a lot, what are the things that help you to pause and work though everything whirling around in that head of yours?
For me, little habits like practicing gratitude, journaling, and a few minutes of meditating each morning make a huge difference in grounding me and helping me to be in the right headspace for the rest of the day. Those things may sound like a lot, but they can easily be done in 15 minutes.
It's worth noting that I resisted journaling and mediating for an extremely long time before realizing it was exactly what I needed. Keep an open mind and experiment.
Whenever I'm stuck, stressed, or really need to work through something, I go for a walk. Being outside in fresh air and moving help me to see things from a different perspective. Even something as simple as taking time in the shower to let your mind wander or being mindful of the way the water feels on your skin can be incredibly grounding.
When are the moments you tend to feel most inspired or suddenly have clarity about something you've been stuck on? Write those down.
Want more clinical & self-care content from IndeVets? Sign up here.
What are the little moments that help you to put things in perspective and release tension in your body?
On Sundays, I often go for a hike and the entire time I'm immensely content. The forest and fresh air always provide the inspiration and reset I need for a new week ahead.
While I can't always go on a hike, I find being outdoors in general—feeling the sun on my skin or listening to the sounds of nature—extremely grounding. It's a time when I feel more connected to myself.
When I was at the height of burnout as a veterinarian, a hug from my husband as soon as I arrived home helped to soften and melt away all of the pent up emotions I had been collecting throughout the day.
Similarly, cuddling with my pups or admiring just how adorable they are always makes my heart full regardless of what else is happening in my life. What moments provide that for you?
What forms of movement help to bring balance to your life?
I am type-A and my default is to go all out. I love a good run or tough workout, but while those do help to boost my mood and decrease stress they don't necessarily bring me balance.
Walks outside and yoga are the activities that help me to slow down, take a deep breath, and work through things that are on my mind in a calmer more reflective way.
I resisted these activities for a long time because they didn't match my desire to always be sweating and going all out during a workout. In reality, it's often the things we resist that we actually need the most.
Yoga helped to shift my mindset in a really powerful way and walks are now my go-to any time I'm feeling stressed or stuck and need to work through a problem. What are the forms of movement that help you to recharge?
More from Dr. Knight: 6 tips to set and maintain boundaries in work and in life
What social settings give you energy and a sense of connection?
For many, COVID has helped to highlight the social settings we need to thrive. If you're an introvert, you may have been thrilled with less social obligations and more time at home. If you're extroverted, less social interactions may have made you stir-crazy and had a negative impact on your mental health. Ask yourself these questions:
Does spending time around others boost your energy or drain it?
What social settings are most grounding for you (small groups, large groups, one-on-one)?
What people help you to feel grounded (family, partner, friends, coworkers, etc.)?
Make non-negotiable space for these in your calendar.
What foods provide nourishing comfort?
When answering this question, avoid confusing "grounding" and "comfort" with burying or avoiding emotions.
When life feels overwhelming, you may turn to alcohol, sweets, or unhealthy "comfort" food for relief. In reality, those aren't giving you a reset. Grounding things help you to recharge in a healthy way. They give you the energy to keep going even during times when life feels tough. Grounding foods are comforting, nourishing, and satisfying.
In Ayurveda practices, certain foods and spices are thought to be grounding and to help bring balance into you life. Traditionally, these are prioritized in the fall to help with the transition from laid-back summer to a busy time of year.
They are also used to bring balance to personality types who tend to be higher stress and always on the go (know anyone like that?).
Ayurvedic grounding foods are dense but healthy comfort food. Root vegetables like beets, carrots, turnips, radishes, and sweet potatoes are considered grounding (note that they literally come from the ground!).
Similarly, warm dishes like soups and casseroles are very grounding. These foods can be incredibly satisfying and comforting without being heavy. Finally, warm spices like cinnamon, ginger, cloves, cumin, and cardamom are all considered grounding.
Here are a few ideas for nutrient-dense comforting meals to try:
Roasted root vegetables are delicious! Try a simple one pan meal by roasting chicken thighs over roasted root vegetables with warm spices for a comforting, satisfying, and nutrient-packed meal.
Try a comforting but surprisingly nutrient-packed dish like this healthy cheesy spaghetti squash casserole.
I frequently make a "cheesy" cauliflower soup complete with grounding and nourishing spices when I need a super quick meal or grounding snack
IndeVet Stories: Making time for family in Japan, and gaining a support system along the way
Prioritizing the things that ground you
Now you have a list of the things that need to be treated as top priorities. When life gets busy, hard, or stressful, don't ditch these.
For example, if you're an introvert and alone time is important for grounding yourself, do not say "yes" to an invitation just because your schedule has free space. That free space may be the ticket to your sanity, and doesn't have to mean adding more to your plate.
The things that ground you will always seem less urgent. Pay attention to the times you sacrifice something on your list because something else seems more important in the moment. When that happens (and it will), you will have identified an area where clear boundaries need to be established.
The more you honor and protect the things that ground you, the more solid your foundation will be for an epic year (and beyond!). Cheers to your health, happiness, and success!
Amelia Knight, VMD, cVMA, INHC is an Associate IndeVet and a veterinary life coach. Learn more at www.lifeboost.today and follow her on Instagram at @lifeboostwithamelia.
More from IndeVets:
6 tips for hospital managers to create a happier workplace
Vet med in crisis: How Covid exacerbates issues veterinarians face daily
5 tips for seamless case transfers