Here at IndeVets, we love to spotlight the ways our team and our partners exhibit our company core values. Today, we're highlighting our technology partners at Jarvus, who built our shift scheduling system (CATS), and our very own team at IndeVets. Together, they adopted a grey seal pup, Barn Owl (later named, Lou-Seal). Here's the remarkable story.  
In April, our technology partners at Jarvus went looking for an exciting and engaging teambuilding exercise that could deepen the partnership between their team and our own at IndeVets. 
"One of the best ways to work on team bonding and team camaraderie is to get everybody in a room together and talk about non-work stuff, have everyone show their human side, laugh a little bit, and enjoy something together," said Kat Jost, VP of Client Engagement at Jarvus. 
Little did they know the teambuilding exercise they chose would be life-changing for a grey seal pup named Barn Owl.  
Seal Rescue Ireland (SRI)
Through Airbnb Online Experiences, the Jarvus/IndeVets team found and participated in a virtual tour of Seal Rescue Ireland (SRI), a wildlife rehabilitation and marine conservation organization. 
SRI's mission is to rescue injured or unhealthy seal pups and nurse them back to health. Once the seal pups are healthy and thriving, they are released back into the wild, where they can begin their lives anew. Over the past 10 years, SRI has rescued over 1,000 seal pups.  
Since the volunteers at SRI began their mission, rescue cases have become more and more frequent, complex, and dire. This is due to the impacts of climate change, water and plastic pollution, biodiversity loss, and habitat loss on Ireland's wildlife. To reduce the number of seals in need, SRI's other mission is to revive and protect their habitats. This will also help the seals return to a safer habitat following their rescue and rehabilitation.  
More IndeVet Stories: Preparing sled dogs for the Willow 300
Meet "Barn Owl," soon to be re-named "Lou-Seal"
"Barn Owl," aka "Lou-Seal"
Through the tour, the Jarvus/IndeVets team heard more about SRI's multi-faceted mission and were informed they could "adopt" a seal online. Kat Jost reached out to Chris Alfano, CTO and SVP of Consulting at Jarvus, and said, "How cool would it be if we adopted a seal and put both Jarvus and IndeVets' name on the adoption certificate?" 
And the adoption process began for a grey seal pup named "Barn Owl."  
(SRI is currently naming all their rescued seal pups after endangered species. This grey seal pup got her name after the Barn Owl, which has been red listed in the "Birds of Conservation Concern in Ireland.")  
SRI rescued Barn Owl on January 21, 2022, from Ballyhealy Beach, County-Wexford. They estimated she was around 4-6 months old when she was found. She was dehydrated and extremely underweight for her age, at just 2.2 pounds.  
She was old enough to be away from her mother, but due to her famished condition, she did not have the physical capabilities to fend for herself. In addition, she was severely injured, showing significant wounds on her flippers, ankle, and mouth. SRI knew they needed to intervene and promptly transported her to their rescue center.  
This adoption meant everyone would have the ability to track Barn Owl's progress at SRI every step of the way through an online portal and frequent e-mail updates.  
"Everybody was so excited," said Matan Barnea, Product Manager at IndeVets. We just had this awesome team building experience where everybody bonded, but I think adopting the seal was the bigger bonding experience. Every couple of weeks we get pictures and email updates about Lou-Seal and everybody gets so excited." 
After falling more in love with her, Team Jarvus/IndeVets also decided to give Barn Owl an additional name that would really capture her fun-loving personality: Lou-Seal!  
Treatment for Lou-Seal
After Lou-Seal's rescue and adoption, the Animal Care Team at SRI placed her in their Intensive Care Unit, where they regularly treated her wounds with saline solution and helped her achieve a healthy weight.  
The team began Lou-Seal's weight gain journey by tube feeding her. She was fed an electrolyte solution to make sure she was well-hydrated and that her digestive system was working adequately. After she passed this test, she was rewarded with fish soup! This delectable meal consists of herring, salmon oil and electrolytes, all necessary nutrients for a grey seal pup to thrive.  
After a few weeks of her fish soup entrée, Lou-Seal began gaining a healthy amount of weight and the Animal Care Team observed that she was becoming alert, lively and responsive. This meant Lou-Seal was healthy enough to embark on the next big step of her rehabilitation journey, moving to a kennel! This signified a huge step in Lou-Seal's journey from rescue to release.  
Lou-Seal's new luxury pad came equipped with a bathtub that the Animal Care Team uses for a variety of rehabilitation reasons, including "fish school," free feeding, enrichment activities, and becoming acclimated with water. The bathtub is also a wonderful place for all the seal pups, including Lou-Seal, to build up their muscles by climbing in and out of the tub.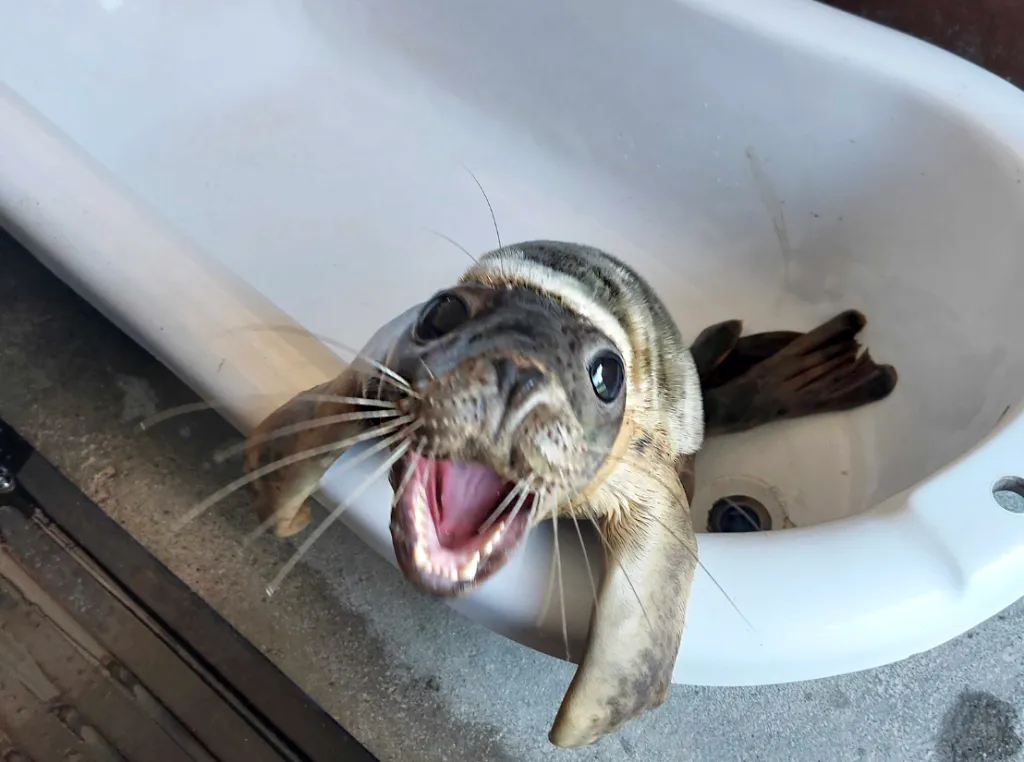 Lou-Seal enjoys a bath!