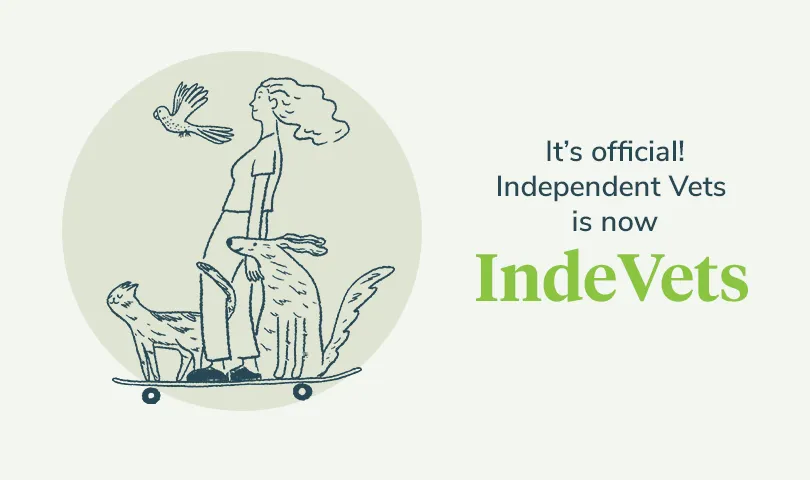 Hi there, and welcome to IndeVets. We're so excited to officially announce our name change from Independent Vets to IndeVets. The change represents our company's evolution as well as our mission: professionalizing veterinary staffing, and returning balance, fulfillment, and joy to veterinary medicine.
Since the beginning, our doctors and partner hospitals have referred to our team of veterinarians as IndeVets. The name Independent Vets is actually a bit of a misnomer – IndeVets are not independent veterinarians, but rather a team of highly skilled, personable veterinary professionals, employed by IndeVets, and united by a mission to make veterinary medicine better.
From the veterinarians to the team at headquarters, we're continuously working to develop new approaches to streamline the veterinary staffing process. IndeVets removes the headaches of recruiting, vetting, and searching for reliable coverage. Our fast, tech-enabled scheduling makes requesting a shift easy. Our doctors are clinically strong, well-rounded, and kind. Moreover, they choose their own shifts – which means if they've accepted a shift, it's because they want to be there. We firmly believe that when doctors are in control of their schedules, they're happier. Same goes for hospital teams who can stress less about staffing.
We're growing!
Along with the name change comes more exciting news: we're expanding our operations to Florida and Georgia. IndeVets now operates in 9 states & the District of Columbia, with close to 500 partner hospitals.
We also launched a new website – welcome to IndeVets.com! Explore a bit, and let us know what you think.
Interested in becoming a hospital partner? Get in touch.
Wanna learn more about becoming an IndeVet? Click here.
More from IndeVets:
Flexible staffing vs. relief veterinarians – What's the difference?
Results from the 2020 IndeVets Mental Health Survey