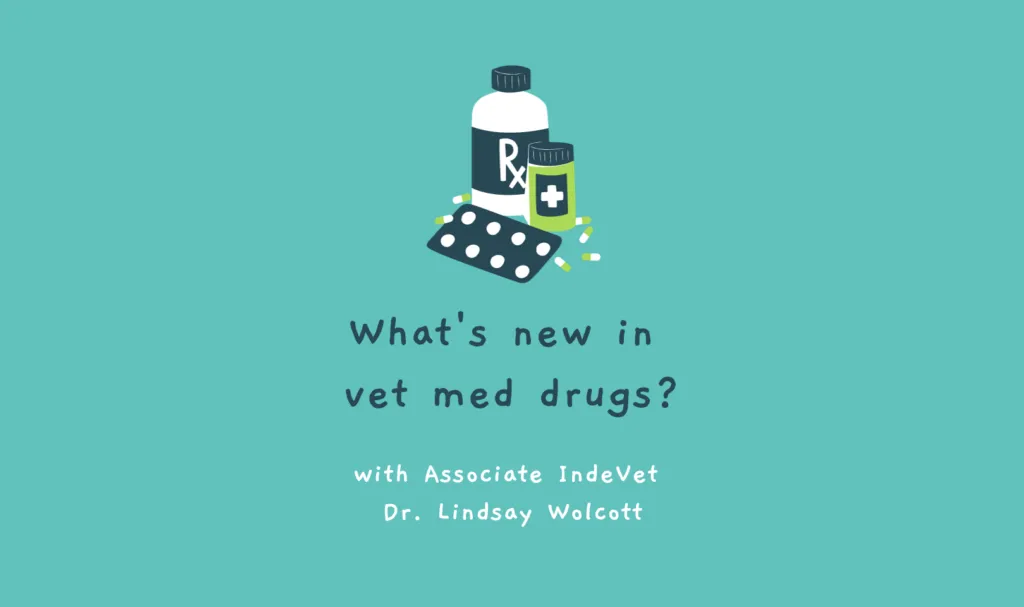 Hello again! It's time for another update on new and exciting drugs, either already available or coming soon to vet med.
**Please be aware this list only covers the past few months of updates, is not exhaustive, and was selected for small animal medicine relevancy.
** Disclaimer, I do not receive any compensation for mentioning any product listed below. All names and brands are owed by their respective companies.
*** This is a summary of each drug. If you want more detailed information than listed here, please go directly to the manufacturer or your local representative.
1) Librela
This is the dog version of the new cat drug Solensia. It is a monoclonal antibody (like cytopoint) that acts on the nerve growth factor in the body to reduce pain signals from osteoarthritis. It is a once monthly subcutaneous injection given at the clinic. This is a great option for dogs who refuse medication or cannot take long term NSAID medication. This may also be helpful for pets that need more relief than traditional pain medications. I do not have pricing information yet for this product. I have several vet friends in the UK who have had this product for years who are able to manage OA pain with just these injections and off oral pain medication. This should be available by the end of the year. I have seen great pain relief in my feline patients with Solensia so far, so I am very excited to try Librela for my canine patients as well.
2) Nexgard Combo (esafoxolaner, eprinomectin and praziquantel topical solution ) for cats
Last blog I talked about the incoming Nexgard Plus for dogs (which is now available for purchase). Well turns out they decided to launch the cat version first. By the time this is published, many of you may see both products in your clinic already. Nexgard Combo is an all-in-one topical prevention for adult fleas, flea eggs, ticks, heartworms, hookworms, roundworms, lungworms, vesical worms, and tapeworms. It comes in two sizes and is indicated for cats 8 weeks of age and up and weighing at least 1.8lbs.
For intestinal worms it treats and prevents so there is no need for supplemental deworming if the product is applied correctly every 30 days! The applicator is new, and owners seem to like this better during testing. It is in a plastic syringe and has only 0.3ml of liquid. All owners have to do is take the stopper out and press down and apply to the skin. No more opening squeeze tubes that spray everywhere. If you have a cat that is over the weight limit, add the smaller size dose as well. Also, since the syringe is plastic with no needle owners can throw it in the trash when they are done. Super excited about this product, especially for the tapeworm treatment.
3) Clarification of Meloxicam for cats
There were some changes approved by the FDA this past winter concerning the use of meloxicam in cats. Historically, Meloxicam has been used off label in cats for arthritis pain in the US. It is approved for use in cats in the UK.
New approval was given to all licensed INJECTABLE versions of Meloxicam to cats with VERY specific intentions. First, it's to be given pre-op for surgery patients. Second, no other NSAIDS should be given afterwards. The warning labels are very clear that only one injection is to be given one time. It will last for 24 hours. There is a substantial risk of renal disease if repeated.
ORAL meloxicam is still ONLY approved for dogs. The labeling for all versions states the same thing: DO not give to cats, high risk of renal disease. If you use oral meloxicam, it is considered off label.
That being said, meloxicam has been used in cats for years in the UK and Canada. So, I have pulled the protocols off the FDA website for using a product off-label in the US. If you continue to use meloxicam in cats, please use the following as guidance. If you have further questions, please contact the manufacturers or the FDA directly. I have included a link below for off label guidance-regulations:
4) Parvo treatment
Until this year there has been no official treatment available to treat parvo puppies. While vaccination of young puppies is key to preventing this terrible virus, it is still persistent is our communities. Whether a puppy gets parvo from not being vaccinated at all, or not old enough to finish its primary series, the treatment thus far has been the same; supportive care. Aggressive intravenous fluids, food, anti-nausea medication, antibiotics, and a whole lot of nursing care. Parvo virus is a gastrointestinal virus that causes the lining of the intestines to shed causing diarrhea, bleeding, resulting in malabsorption of anything the puppy eats and massive dehydration.
However, we have a new tool that we can use to treat these sick little guys. It is called Canine Parvovirus Monocolonal Antibody. This drug has the same mechanism of action as Cytopoint and Librela. This is a one-time IV injectable medication that has been conditionally approved to shorten the course of disease and improve outcomes. In the safety trials, puppies given the medication had less diarrhea, less vomiting and required one to two days less in the hospital. This should be a game changer in treating parvo cases. I do not have information as to availability, to purchase for the clinic, but it should be soon.
That is all for right now. As always, I will be back with more drug updates as more wonderful products are given approval by the FDA.